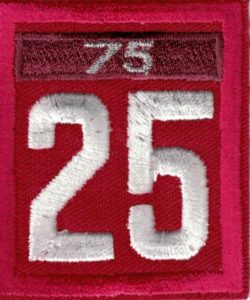 Pack 25 was formed in May of 1938, only 8 years after the Boy Scouts of America started the program. We have been continuously chartered since then. From day 1, it has been built on volunteers. Having parents step in and help with the Pack is how we are able to run and manage the program that the boys experience today.
We have leadership at the committee level that keeps the Pack running. A Treasurer, Secretary and Committee Chair are joined by other positions and meet monthly. The program leaders are Den Leaders and assistants led by the Cubmaster and assistants, generating a program that is fun for the boys while attaining the necessary achievements allowing the boys to earn rank and other awards.
Our current leadership team is:

| | |
| --- | --- |
| Committee Chair | Jay Kerns |
| Secretary | Tina Robinson |
| Treasurer | Krista Pal |
| Advancement Chair | Lisa Henry (interim) |
| Popcorn Kernel | Mike Bort |
| Cubmaster | Jason Henry |
| Assistant Cubmaster | Gary Yankowski |
| Arrow of Light Den Leader | Pat Gaia |
| Webelos Den Leader | Bob Weber |
| Bear Den Leader | Andy Pfrenger |
| Wolf Den Leader | Jeff Mills |
| Tiger Den Leader | You! (but Kevin Miller in the interim) |
| Lion Guide | Jay Kerns (interim) |
We are looking to fill some additional positions for the program year such as:
Advancement Chair
Pack Trainer
Recruiting Chairperson
Outdoor Activity Coordinator
There are other positions that we would like to fill so ask Jay how your skill set can fit the Pack's needs!
How does Pack 25 fund all of our great activities? Come fall you will hear the word "popcorn" again and again. BSA sells popcorn to raise money, and Pack 25 is committed to selling as much as we can. The percentage that the Pack keeps from each sale is used so that, apart from the registration fee, summer camp and special activities, families do not pay for any events. There is a registration fee for each adult volunteer to register with BSA – Pack 25 covers this fee to show our support and appreciation for our leaders. The Pack has to pay to register each person (boy and adult) associated with the Pack each year. We do not ask families to pay this either. We are very proud of this policy, but in order to be able to maintain it, we need each family to share in the fundraising responsibility. We hold other fundraisers throughout the year, and while we understand that many groups ask for your time for fundraising, we are confident that you will find this worthwhile.