What is Cub Scouting about?
Cub Scouts is fun.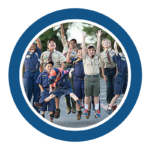 Cub Scouts lets kids have fun while teaching them skills that will help them later on. From the thrill of shooting an arrow to learning how to transform a block of wood into a race car, Cub Scouts is one thrill after another.
Cub Scouts is about meeting boys where they are.
Our program is thoroughly mapped out to match each age in a young boy's life. Each year our Pack leadership meets to exhaustively review last year's programming wins and challenges, growth our Scouts have made and yet to achieve and then we build a fun-filled, boy and family-focused program.
Cub Scouts is about giving boys a safe, 'personal best' way to grow, learn and do.
Cub Scouts learn that even when fun isn't easy, it's always an adventure. In Scouting, everything has a purpose. And it shows kids that doing their best is the most fun of all.
What are Cub Scouts 'values'?
We follow a time-tested, simple code called the Boy Scout Law, that covers everything we do, believe, lead and practice.
A Scout is trustworthy, loyal, helpful, friendly, courteous, kind, obedient, cheerful, thrifty, brave, clean, and reverent.
What do I do with my son in Cub Scouts?
Cub Scouting is a family-oriented program designed specifically to address the needs of younger boys.
We design our programming to include entire families, siblings included.
We often form a 'sibling den' to include non-scout brothers and sisters in our fun activities.